"Everything they're cracked up to be"

Regan Smith (aka Aunt Regs), bought some chickens in the Spring of 2020. After the birds began laying, she began handing out eggs to just about anybody that didn't seem fowl. That merited a brand and the name was too convenient not to go all-in. Check out the "making of" here.

This project was initially a fun Christmas gift for our little sister, but we go big around the holidays. The cards were printed and hand-cut at home on 100# speckletone cardstock. The cartons are recycled pulp containers, inked with rubber stamps. It was a pleasure to use Hermanos by Erik Marinovich as the main typeface.

Expect to see some more photos as the operation turns into a frequent vendor at the Baldwin City farmer's market.



branding, packaging, print



"Pool ownership made easy"

Meg and Stephen were looking for a fresh identity for their new business venture, Pool Revolution. After several years of experience working with pools and spas in the Memphis area, Stephen's dream to strike out on his own became a reality in the Spring 2020. The couple's customer list grew rapidly and they quickly recognized the need for a unique brand that stood out among the Midsouth competition.

The Hideout was PR's first and only choice. The biggest request was for something original and fun that relayed the business attitude that owning a pool could be relaxing, with the right help. The mascot, Poolyboy™, came after hours of sketching -- and intermittent breaks playing Animal Crossing: New Horizons. He resembles the sun, or a drain, depending on how long you get lost in his eyes. The typeface is Brice by Studio Sun and its varying weights made for some fun exploration. The colors resemble the pH testing kits Stephen shares with pool owners.

Be on the lookout for Pool Revolution merch this summer -- shirts, hats and koozies are just the beginning.



"Kind of a big dill"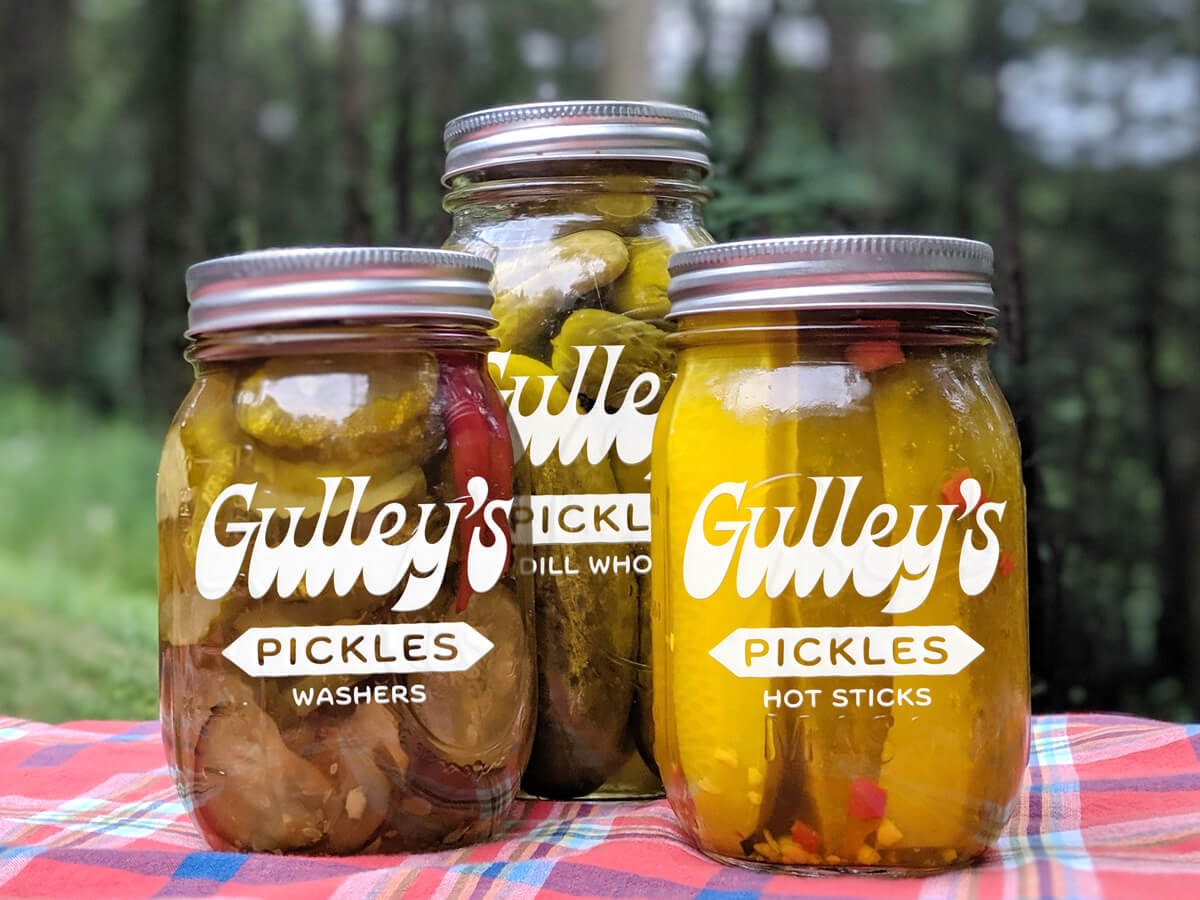 Anthony Gulizia is a freelance reporter by day and a canning savant by night. After perfecting his pickle recipe, he began sharing his goods with family and friends—even coworkers. Taster after lucky taster said the same thing, "Make more and take my money, you handsome fool!" Well, the peer pressure finally got to him. Enter "Gulley's," New England's new premium pickle provider.

We fielded Gulley's casual request for a logo with the natural prowess of any seasoned pickle enthusiast. After hours of field research, the data was clear: there is no competition in today's homegrown pickling space. Gulley's needed a sensible look to attract consumers and a unique mascot that appealed to both grown ups with sophisticated palettes and children who enjoy goofy cartoon animals. The Pickle Rodent™ is an ambiguous forest-dweller who draws in cucumber enthusiasts of every level and becomes an instant friend as soon as customers bite into a refreshing Gulley's pickle.

Gulley's available as Washers™ (dill slices), Hot Sticks™ (spicy spears) and Dill Wholes™ (full gherkin). Coming soon: Okra and Green Beans!



"We're not comfortable until you are"

After a decade of senseless Arial Bold, it was time for the Smith Service Company, Inc. to establish its brand. Shawn Smith's career as an HVAC-technician-turned-small-business-owner has spanned over 30 years, so the company required a bold, industrial mark. Now, officially registered with the U.S.P.T.O., the S.S.C. has a new, yet familiar, L.O.G.O.

"You know," Shawn said initially, "I've always thought an air conditioner fan blade kinda looks like an S." With that, the tone was set. Our team spent weeks searching for the perfect mark, sketching out S's like it was 1995 again. An instant classic, the new logo helps attract new customers with its timeless feel while updated van wraps and uniforms cohesively unite the existing elements that the company has maintained throughout its distinguished lifespan.

The Smith Service Company: proudly providing HVAC service to Kansas City and the surrounding Kansas communities since 2001.



branding, print, photography